The Holidays are fast approaching and that means getting ready and in the holiday spirit. At Frames Unlimited, we are here to help you do that and decorate your home with festive custom frames. Here are some ideas to bring some holiday cheer into your homes, and for your friends and families to enjoy. 
Frame Wreaths
A very popular trend this holiday season is to make wreaths out of different festive frames and decorations. These are so much more fun than the traditional wreath décor and will be a holiday showpiece in your home, or on your front door. At Frames Unlimited we can help you bring your creative frame wreath vision to life. All you need to do is pick the frame you want, and add things like ribbon, festive flowers and plants, or ornaments. Voila! Your holiday frame wreath is ready to be hung and added to your cozy, festive decorations.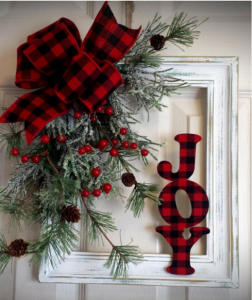 Festive Colors 
To bring your home to live with holiday decorations, you can also incorporate holiday-colored frames into your decorations. Replace your normal picture frames with ones that are shades of gold, silver, green, and red. This will make your pictures more holiday-themed, and will also add to the coziness of your festive décor.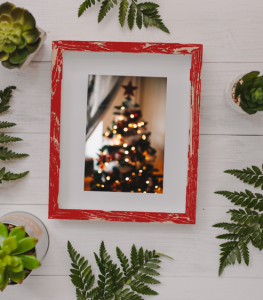 Iconic Family Photos 
Another way to use custom framing to decorate for the holidays is to frame your most iconic family holiday photos. Whether it be this season's family holiday card, or a funny memory from years ago, we can help you find a festive frame so that you can incorporate this memory into your holiday decorations. The holidays are about being with family and the people you love. We can't think of a better way to get in the spirit than by making these moments decoratively come to life.
Holiday Artwork
If you love art and decorate for the holidays with holiday artwork, we recommend dressing them up with a decorative frame as well. Hang your festive landscape scene with a silver or gold metal custom frame. Add a white textured frame to an image of a beautiful winter landscape. Whatever artwork you have to display for the holidays, we will help you find a custom frame to match.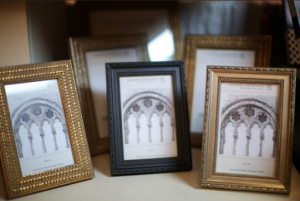 Looking to purchase a custom frame for the holidays or to create any of the ideas above, stop in and see us in the Windermere Shopping Center or visit our website!